• Heidi Shenk • "Baltimore" • "camden yards" • "orioles"
After a pretty eventful afternoon on my
roof deck yesterday
, I headed downtown for a baseball game. The Pirates were in town so I wanted to be sure to catch at least one of the games in the series. My dad's side of the family is from Pennsylvania, and my grandparents and aunt and uncle live outside of Pittsburgh. Growing up, we used to be huge Pirates fans. That's when the Pirates were really good. Despite becoming quite the Orioles fan since moving to Baltimore, I still like to go see the Pirates every couple years when they come to town for inter-league play.
I decided to take my nice camera along with me with the hopes of also catching some shots of the tall ships that are currently in the Inner Harbor (more to come on that later). I'm glad I did because it was also the first time that I was able to get some decent shots of Oriole Park and Camden Yards in the five years we've lived here. Last night was a beautiful night for baseball, and having camera in hand it was kind of fun to be a tourist in my own city and check out some things in Camden Yards that I often overlook.
We were able to snag a seat at the bar along the centerfield wall during the Pirates' batting practice.
Got to watch Tommy Hunter and Matt Wieters warm up in the outfield and in the bullpen.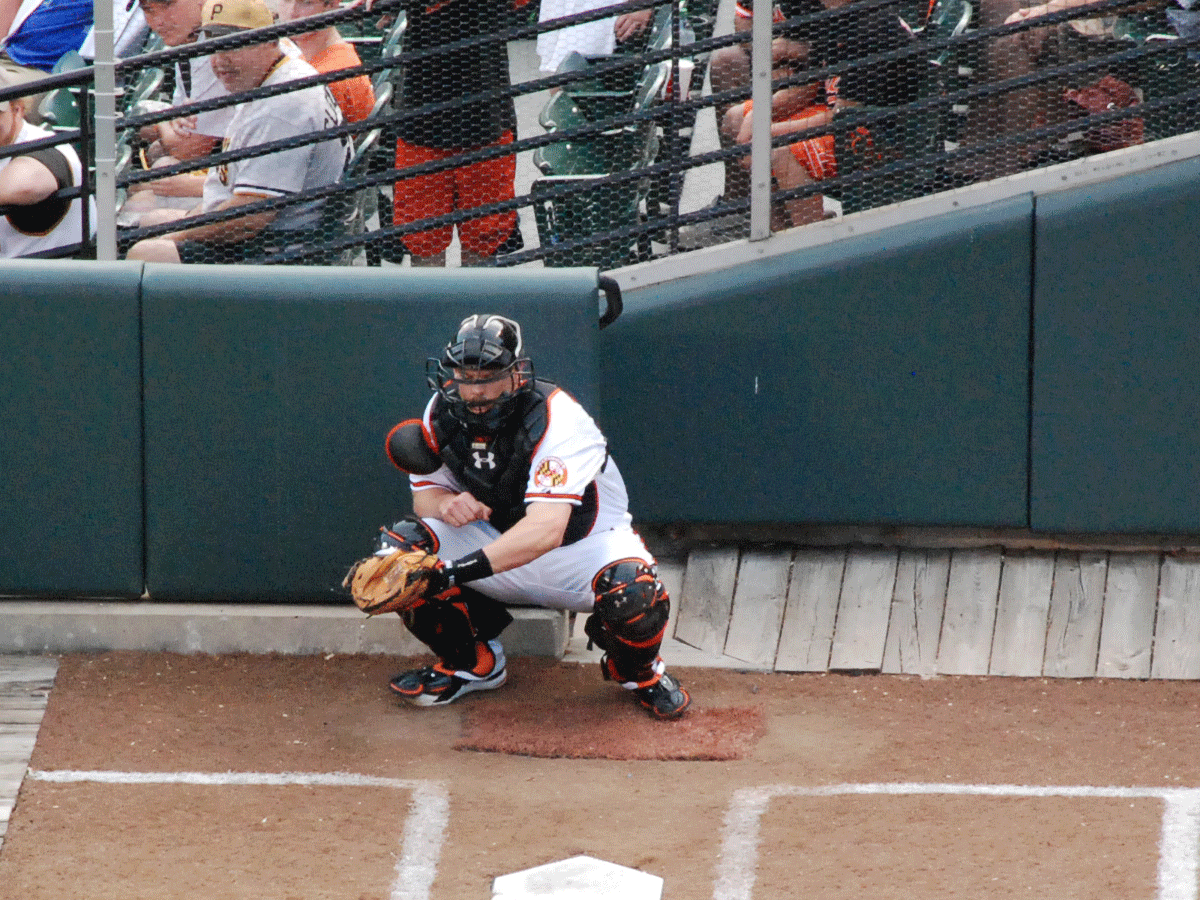 Got to see Andrew McCutchen and Adam Jones in action in centerfield.
 Witnessed a home run and watched the bullpen round up for a cheer afterward.
Enjoyed views of the stadium.
Spotted the marker for a Jim Thome home run on Eutaw Street and admired the new Frank Robinson statue.
And of course also enjoyed the game.
We spend quite a bit of time here in the summer and this was truly the perfect start to summer vacation. Camden Yards is quite possibly one of the nicest ballparks in the country and if you ever have a chance to visit, I highly recommend you take advantage and catch a game! Do you have a ballpark you visit often?